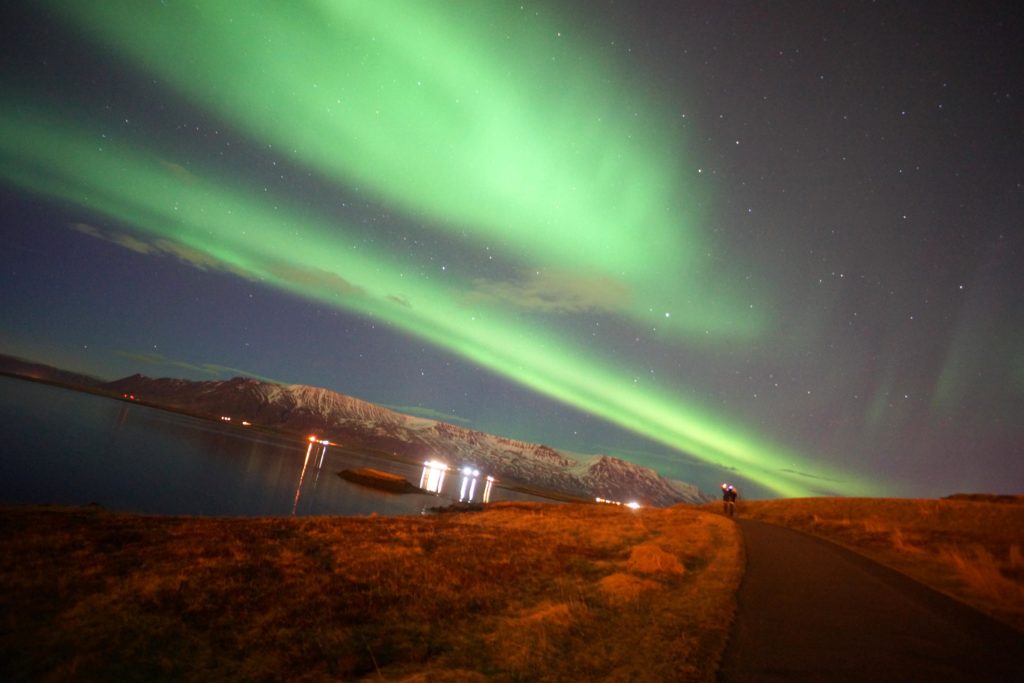 Go West…
Mels Dees, Reykjahnid 04-04-2017
Let's start with the northern lights, just to get them out of the way. In the first place, the famous colours are not there to be seen with the naked eye – they are quite real, but only turn up clearly on photographic images. So most of the time, you can't even see what it is you are taking pictures of. And then, afterwards on the computer screen, the aurora shapes and colours are literally stunning: there's not much more you can say about them but 'Aaahh… '.
After missing out on a few occasions (a concert, a dance performance, or plain forgetfulness) we managed to see the lights in full splendour while we were outside. In spite of their variety in shape and form, the northern lights tend to appear monotonous to me – after a while I experience a kind of excited boredom. And you can get amazingly cold while watching.
But ok, here's some more: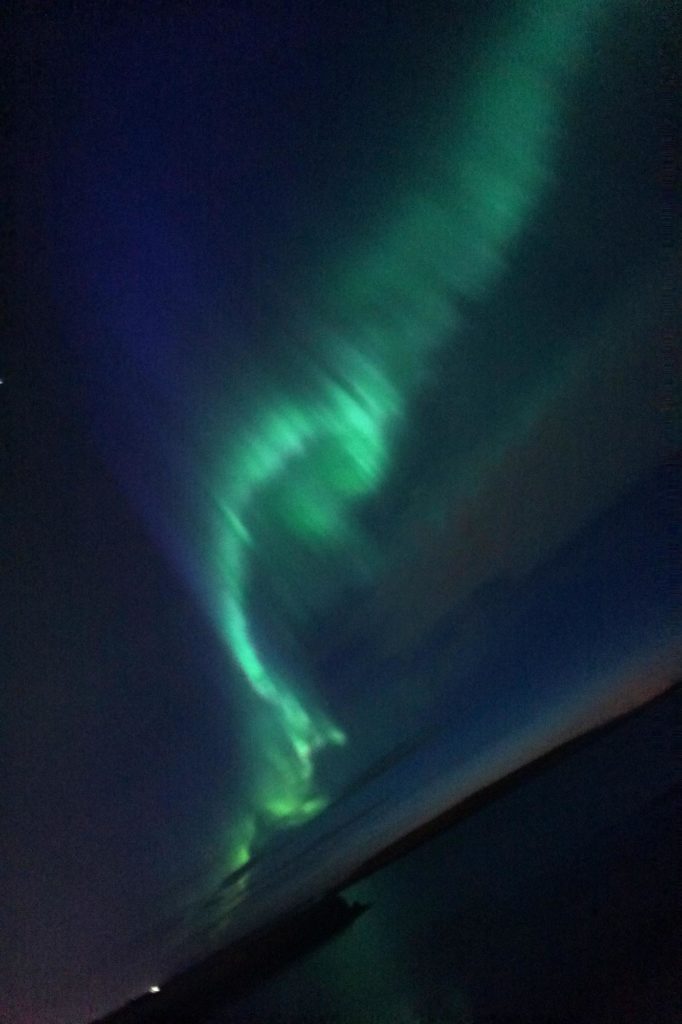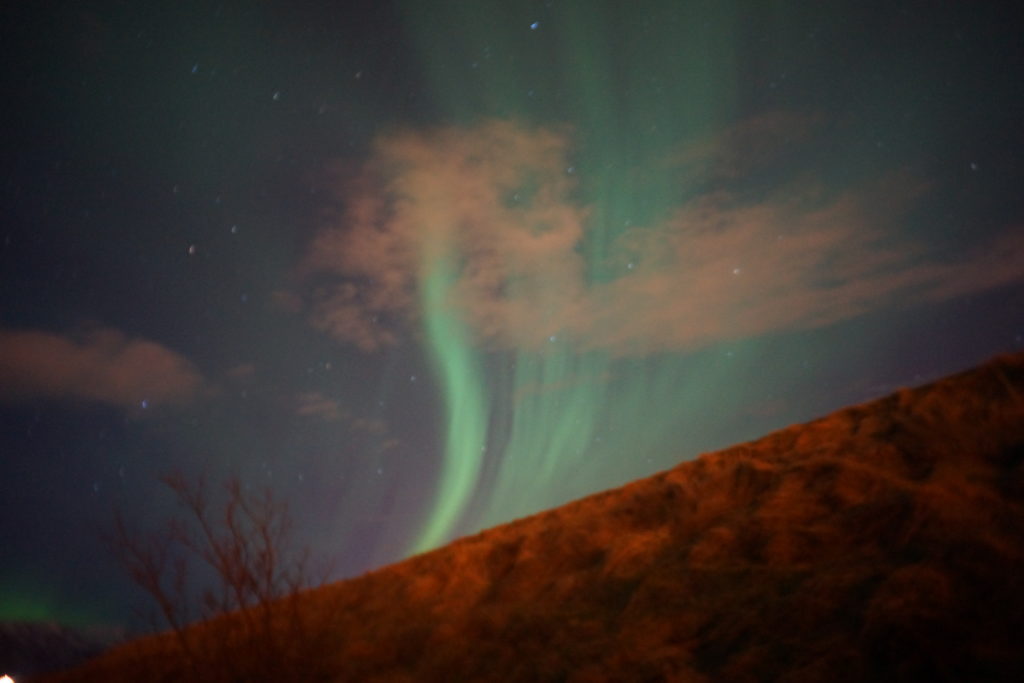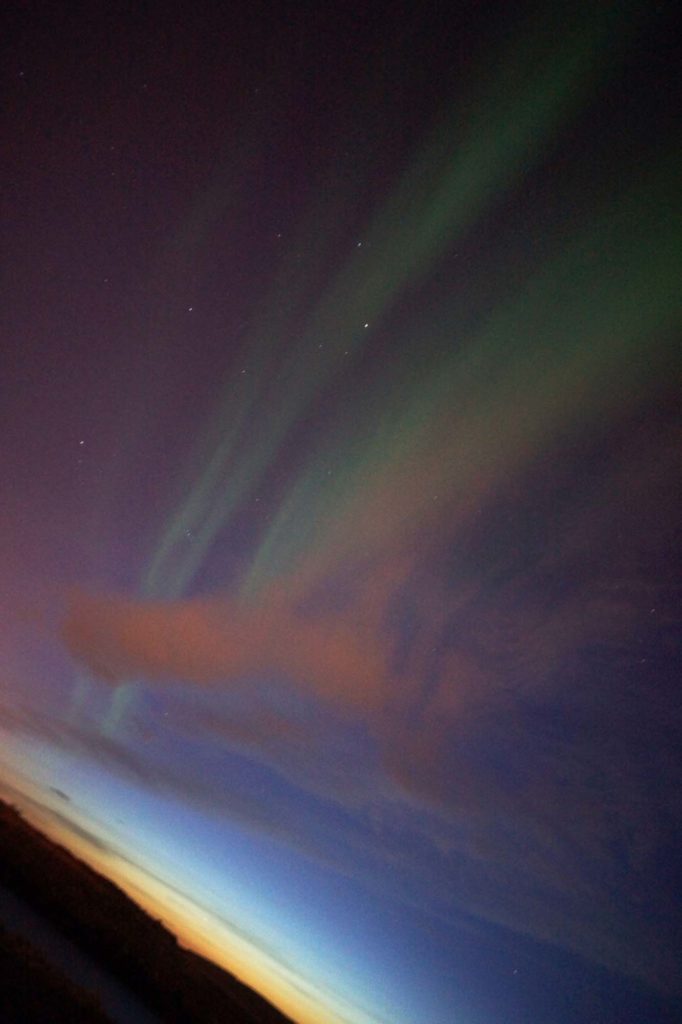 At this moment it is very hard for me to think of employing Aurora Borealis for any convincing artistic purposes. I mean: what can you do with it? I don't know yet, but who knows, that day may come.
In the mean time, we had our work cut out trying to interpret Iceland's wild, harsh and largely incomprehensible nature . Our one-month residency at SIM in Reykjavik allowed us to travel around and explore just a tiny part of the country. Even though our expectations were high, we kept being amazed at what we saw. It was hard to make any speed while travelling – there was simply too much to see. By painting, photographing and making collages, we tried to make some sense of it all.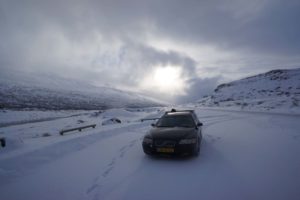 How to get there?
Mariëlle van den Bergh, 04-04-2017 Reykjahnid
Then there is the subject of travelling to and in Iceland. It is very fast and convenient to take an airplane to Keflavik, the airport 50 km. west of Reykjavik and then the shuttle to town. Which we didn't do. We took our old Volvo, drove it 1000 km from Eindhoven in the south of Holland to Hirtshals in North Denmark and boarded the Smyril Line Ferry. This trip takes three days and nights including a stop in Tórshavn in the Faroer Islands. In the picture we were passing the Orkney Islands.

Since we started out at the end of February, there was a good chance we would run into a storm at sea as well. As in fact we did, which meant that the captain ran the vessel faster than scheduled and skipped most of our stay at the Faroer. We sailed ahead of the storm and reached Seyðisfjörður in Iceland half a day early. Seyðisfjörður is a lovely small fishing town at the end of a fjord on the east coast of Iceland. It is also home to the artist residency, café and exhibition place Skaftfell, which was founded by German artist Dieter Roth.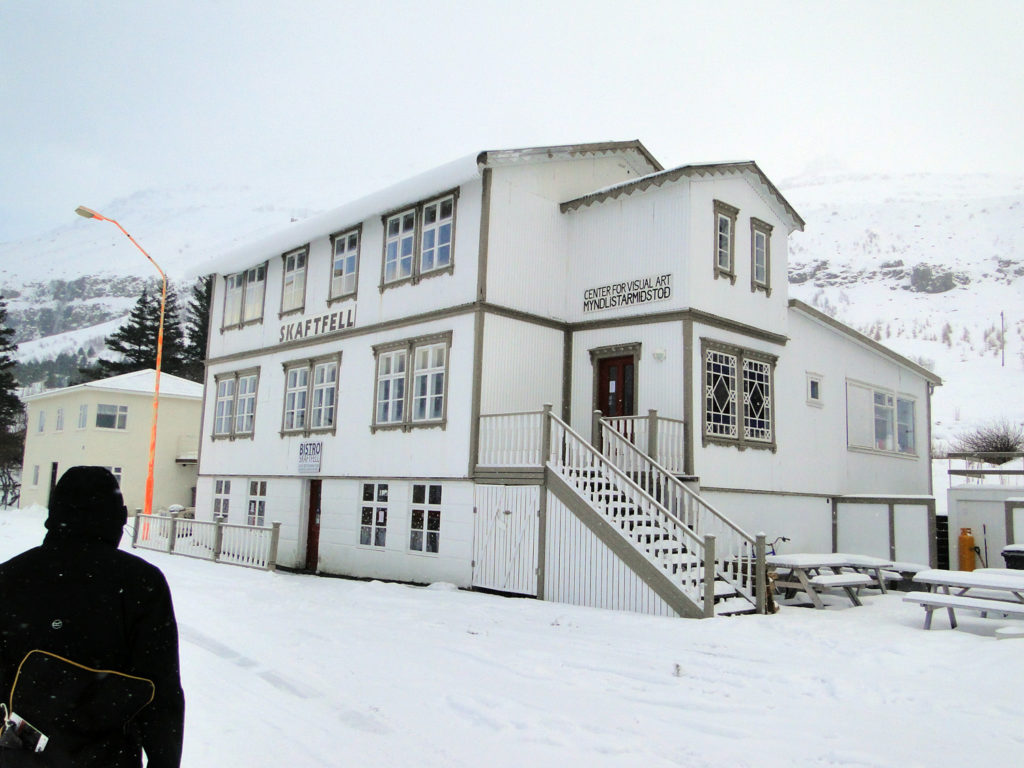 We had rented a beautiful wooden cabin, overlooking the fjord and 3 kilometres outside of Seyðisfjörður, a bit up the mountain. Since a fresh pack of snow had fallen, we learned our first lesson about Iceland: the weather is not what you thought it would be a day ago and it can change very quickly. In fact we got stuck on the way to the accommodation and had to put on the snow-chains. We were saved by the host of the cabin. Icelanders are able to drive during winter using tyres equipped with spikes. We came to get used to the strange sound of spiked tyres in the streets. A very useful website is the www.road.is. This reports on road conditions very accurately and is updated continuously. The weather is harder to predict (www.vedur.is). Only the most recent news proves to be accurate. But this is Iceland: the next day it can be totally different: sunny or grey and foggy or a snow storm. The main road around Iceland is the 1. It goes around the island, following the coast in the south and cutting through mountains in the north. Doing this, you will encounter the most breathtaking scenery.

Teeming cultural life
Mels Dees, Faroe Islands, 06-04-2017
Icelanders – how do they do it? As soon as you start getting some idea of the size of the country (more than twice the Netherlands), the tremendous natural obstacles to infrastructure, agriculture or any other type of human civilization, while realizing that it has fewer inhabitants than The Hague, you start wondering how they got the place in its present well-groomed state. Granted – energy in Iceland is virtually free and green, there are quite a lot of foreign workers (mostly Eastern European), and Icelanders themselves work almost day and night (mostly because life is so expensive).
But to me it remains an enigma.
The same goes for cultural life. It is incredible lively and many-coloured, not just in Reykjavik, where more than half the population lives, but also in the country. Reykjavik boasts one of the world's most beautiful and intriguing Opera Houses (Harpa, built in collaboration with the artist Olafur Eliason), but there is a plethora of artists' initiatives, small theatres, museums, exhibition places and it looks as if, as soon as a building is abandoned or being reconstructed, it is turned into a temporary art centre or pop-up gallery. And in the sparsely inhabited countryside, in the tiniest fishing villages, you will find any number of artists' residencies, often well-equipped and up to date.
Also the level is high: almost all professional artists from Iceland are trained abroad and people like Sigurdur Gudmundsson, Hildur Gudnadottir and Jon Arnason are well-known all over the world. Even work from amateur weaving clubs or by semiprofessional painters often looks incredibly tasteful and well-made. But the most impressive is the way artists use every opportunity to develop and show their work – both official and improvised – and the number of people paying attention or involved in the results. During the short period we were in Iceland, we saw numerous exhibitions, some of them so crowded you could hardly get in.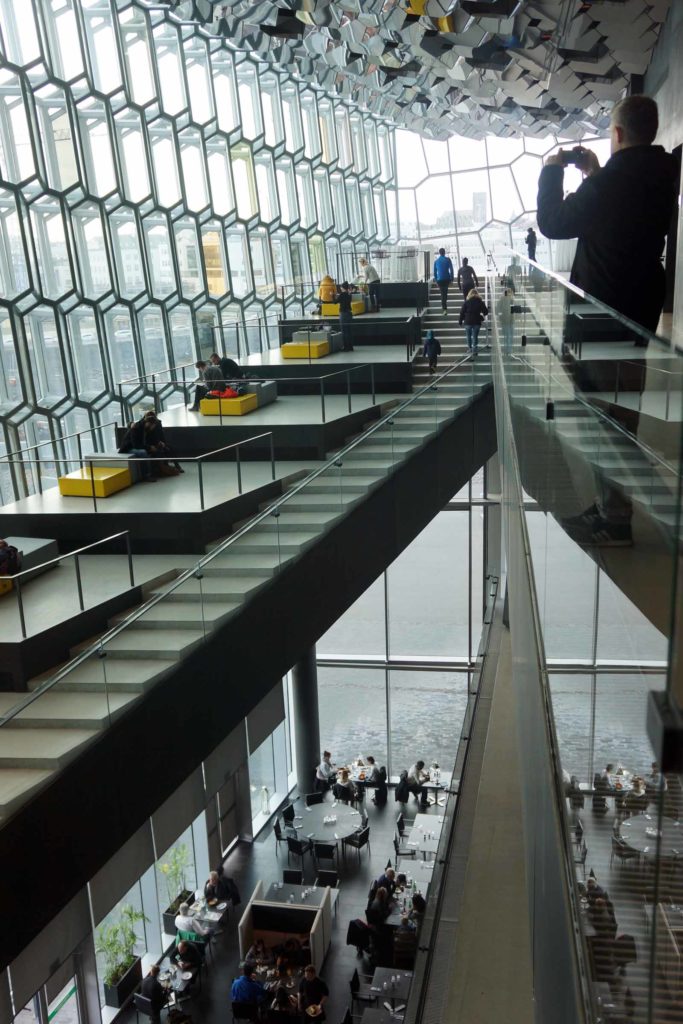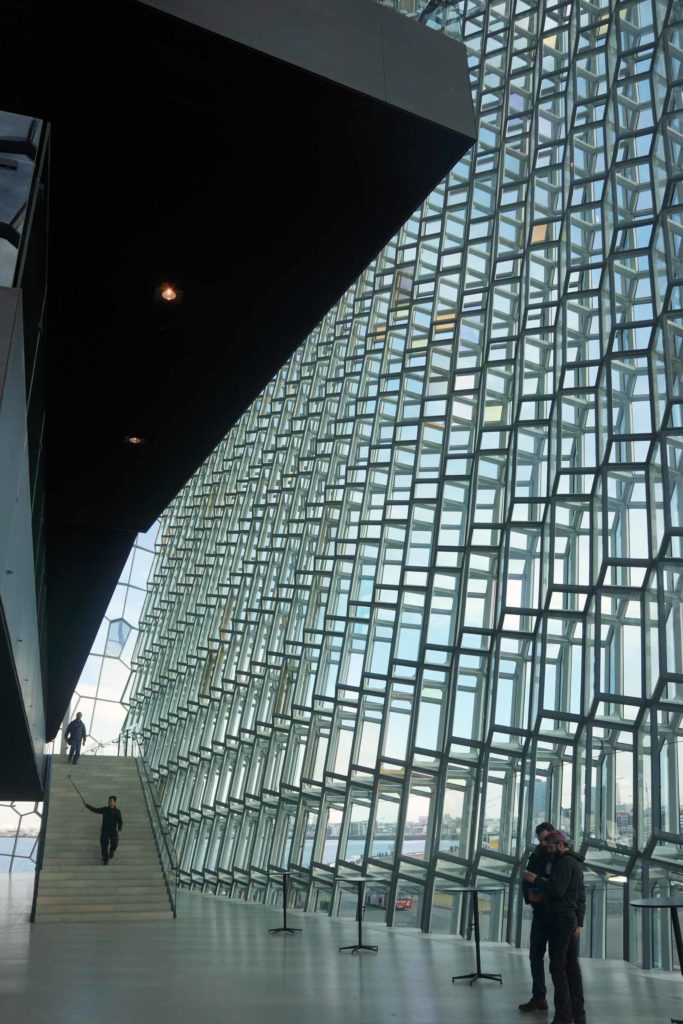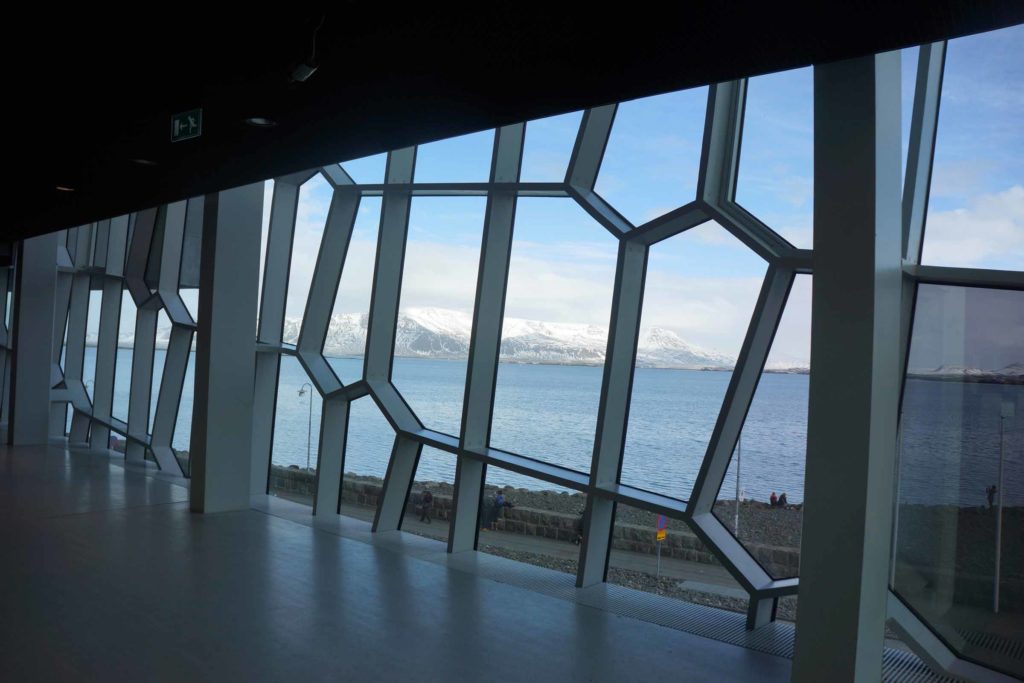 The showpiece of Icelandic culture is the Harpa Opera – doubling as a public square – with walls mimicking the basalt columns Iceland is made of, and built in a stunning setting.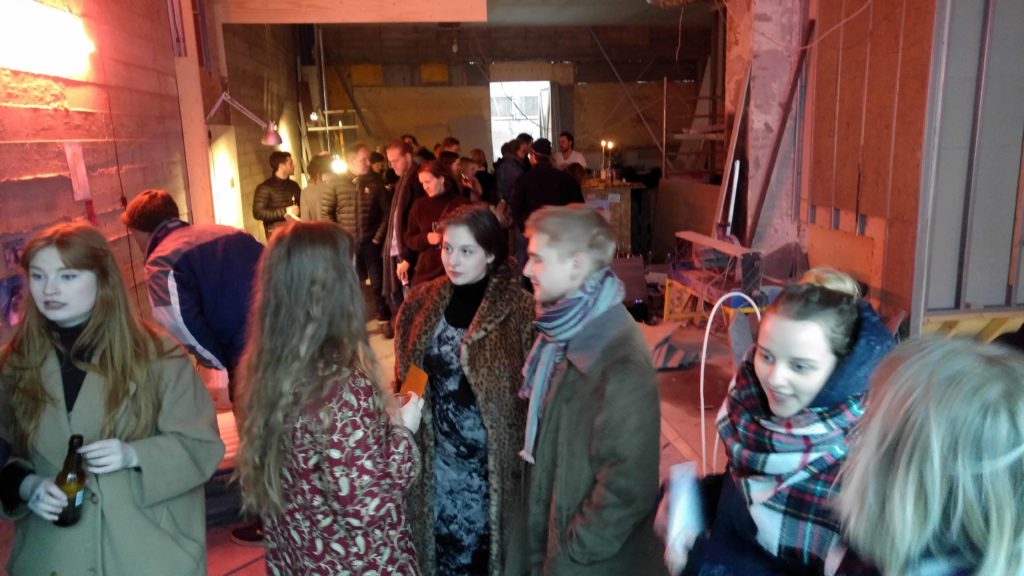 One day we ran into the busy opening of a 'pop up exhibition' taking place in a shop being redeveloped in the centre of Reykjavik. The theme of the work was 'natural materials', the presentation slick and digital, the public young and decidedly hip.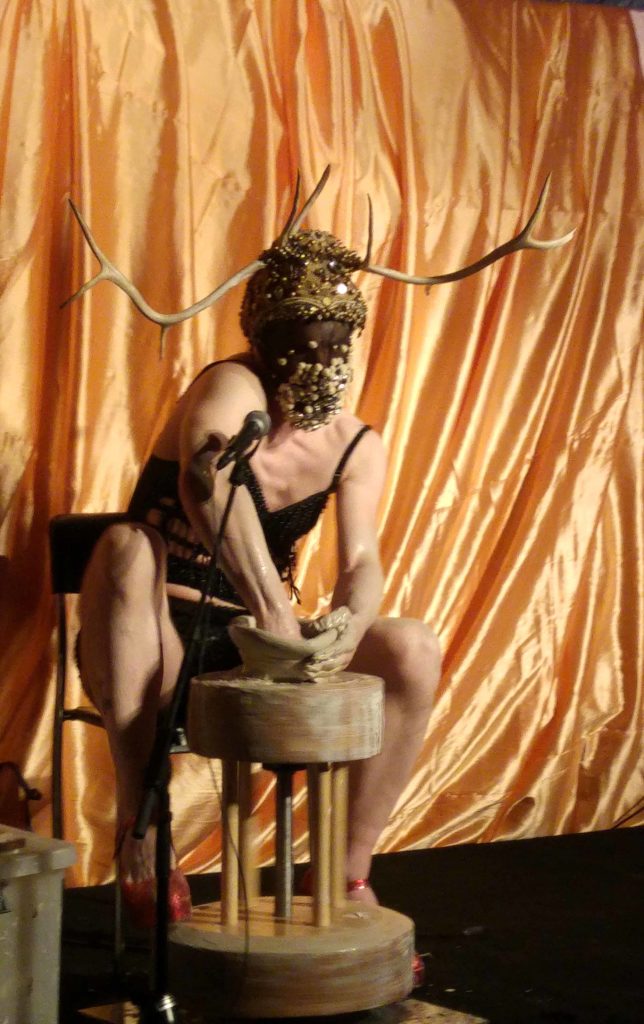 On another evening we went to a combined art film/dance performance (Fórn (Offer) by the famous American artist Matthew Barney and an Icelandic dance group) in a theatre just outside Reykjavik. Both the dance performance and the film were outrageous. During the interval, a weird cross-dressed Viking held an unintelligible monologue while throwing a clay mug.
In the tiny village of Hjalteyri, near Akureyri (North Iceland), a former fish factory run by Gustav Geir Bollason serves as a gigantic studio and exhibition space for visual artists – at least during summer. In winter, the area is often isolated by snow and wind.
Being an Artist-in-Residence at SIM
Mariëlle van den Bergh, Faroe Islands 07-04-2017
SIM is the Icelandic Artists Organisation. It is based in Reykjavik, its headquarters in the town centre. In the same building also houses the gallery. There are three more locations. One is in Reykjavik city itself, on Seljavegur street and a ten minutes' walk from the gallery. At Seljavegur comprises 10 studio's for artists in residence, while the other spaces are used as studios or for other artistic purposes. The second location is at Korpulfsstadir, which is 10 km. from Reykjavik. Korpulfsstadir is an old, monumental dairy farm. Besides the 3 rooms for artists in residence, a cosy and spacious kitchen and roomy studios upstairs, it also harbours an (independent) gallery and many small studios for local artists.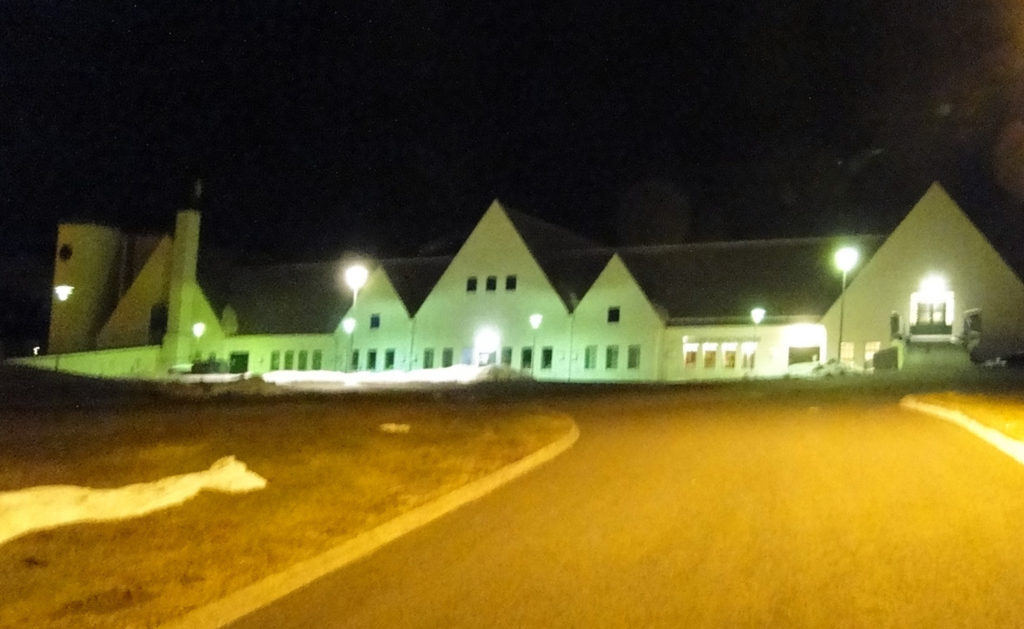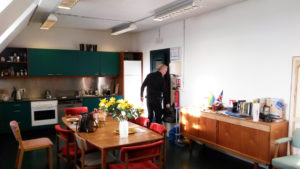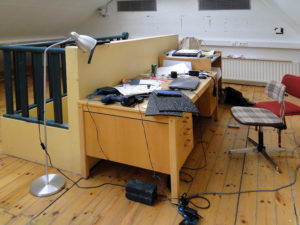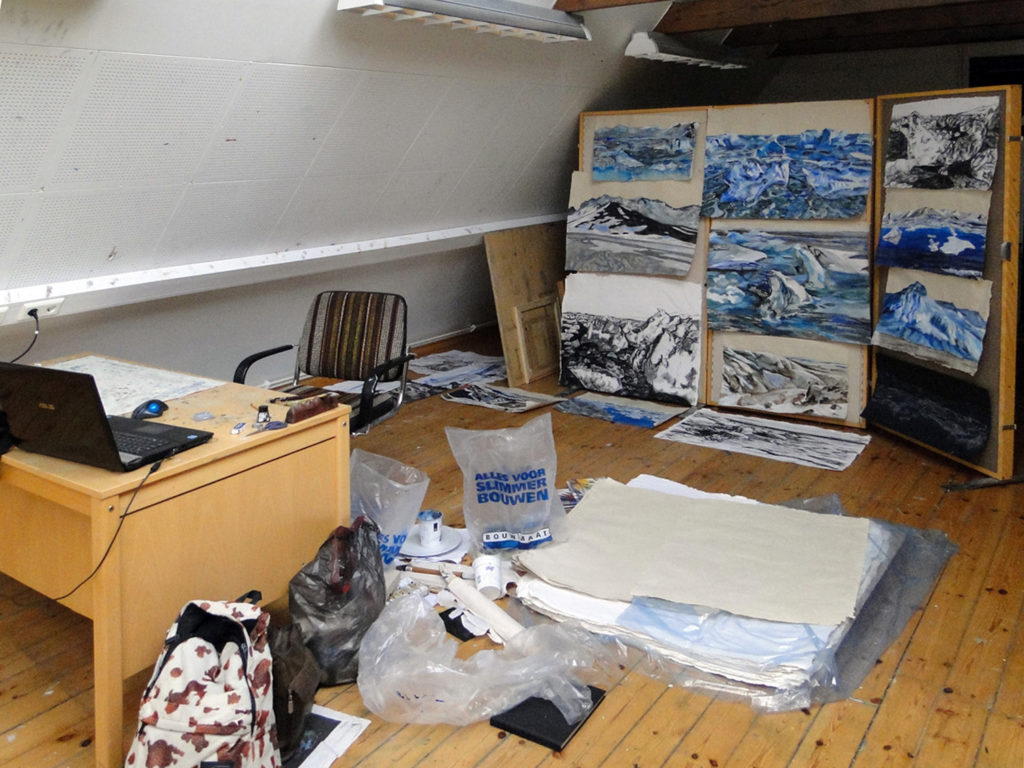 The third location is in Berlin and is meant only for Icelandic artists. You can find information on the website www.sim.is Applications are taken twice a year. The residency is one to three full months. During the residency the artist is allowed to have visitors. Our residency was during the month of March at Korpulfsstadir and our fellow artists there were Danish textile designer Gitte-Annette Knudsen and Australian photographer Janet Tavener. Janet was accompanied by husband and graphic artist Rew Hanks. In the other SIM location there were artists from Finland, Italy, Germany, the USA, Thailand, Ireland and Australia and they covered visual arts disciplines like painting, video, photography and sound.
At the beginning of the month SIM project manager Birta Ros Brynjolfsdottir organizes meetings, where artists meet each other, present their plans and show their works in a power point presentation. Birta provides addresses of artist's material dealers, second hand places, car rentals and whatever else you might need. She also sends mails on events you should not miss, in our case things like the opening of the new Marshall building.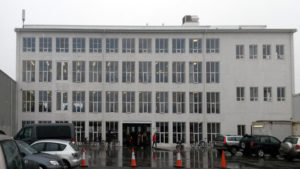 This turned out to be a really important event in the Icelandic art world and indeed the entire local scene turned up. In fact we, as Dutch artists, haven't seen such a crowded opening for ages and where very impressed. The Marshall building hosts the Living Art Museum and Ólafur Eliasson 's studio on the top floor. Some of his work was on show. In the seventies, he studied at Ateliers '63 in Haarlem. Another floor of the Marshall House is taken by the artists' initiative Kling and Bang.
The art made during the SIM residency is presented at the end of each month. This exhibition will always be a group show. In our case the work of no less than fourteen artists was on show. In between these presentations there are other exhibitions in the gallery, presenting SIM members or visiting artists. Reykjavik art live is very much alive and there is much to be seen.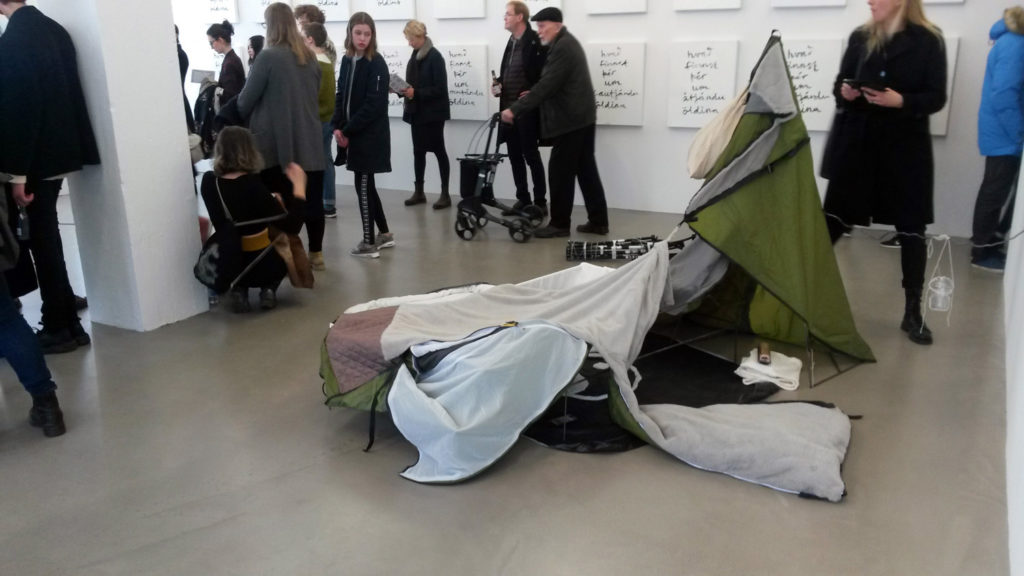 Icelandic art and artists
Mariëlle van den Bergh, 05-05-2017
In the eighties I attended the Jan van Eyck Academy in Maastricht. In the two years I spent there, I met seven Icelandic artists. Sadly enough out of these seven persons, three had already passed away: Ingileif Thorlacius, Thorvaldur Thorsteinsson and Georg Guðni Hauksson. Thanks to the 'A3tjes', the leaflets the students were allowed to publish each year at the JVE, I could Google their names and using translation programmes I could find information and contact the other artists. So in Reykjavik we met with Svanborg Matthiasdóttir and she is a very active artist, an art teacher and organiser of exhibitions, for instance with artists' books. One of the A3tjes of Svanborg had paintings with horses. Nowadays she and her husband have 30 Iceland horses and she still paints them. In her beautiful home, designed by herself, the Icelandic horses run among the walls and clearly enjoy their freedom. (ARKIR-Svanborg M\myndystaskoli.is/svanborg m\Hotel Ranga-room 36\artist's Book Exhibition in Iceland/Svanborg Mattiasdottir)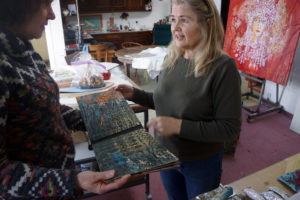 The next artist we met was Helgi Thorgils Fridjónsson, who had been on a residency at the European Ceramic Workcentre with Mels in the past. Helgi is an internationally-known painter. He had recently moved from his old studio to a brand-new one and hundreds of paintings were still lining up to get sorted and stored away. But he was already painting new ones and had them on a wall, standing on adjustable pegs. Among the paintings were the ceramic works and now and then Helgi rather enjoys the change and get his fingers into the clay. (wikipedia\ helgif.is\ icelandicartcentre.is/people/artists/helgi.thorgils.fridjonsson)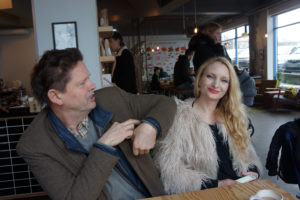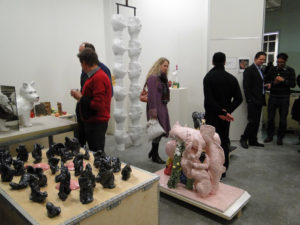 Still in Reykjavik we went to meet a young artist, Brynjar Helgason, who recently had been over to Amsterdam for a residency and exhibition at Breed Art Studios. He took us to an office building in the suburbs of Reykjavic, where he had made interventions by placing art in the office space. (breedartstudios.net/whosh/Brynjar Helgason\nylo.is/events/coming-soon/Brynjar)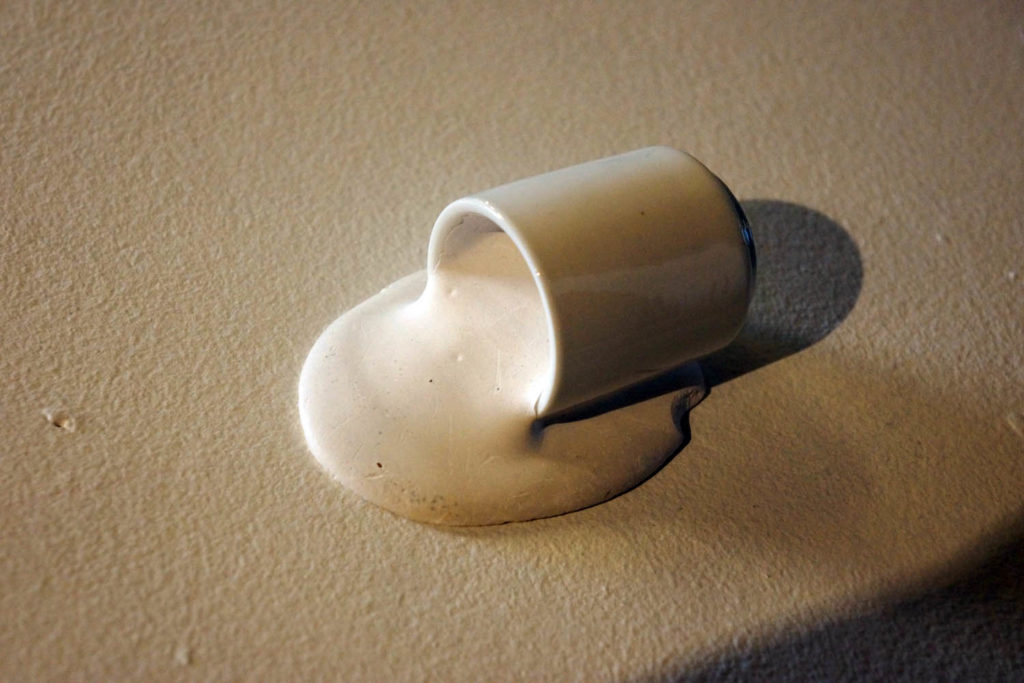 Our residency at SIM, the Icelandic Artists' Organisation lasted one month. At the end of it, there was a presentation in the gallery. All 14 artists were included in the group show, with the title Naturgemälde.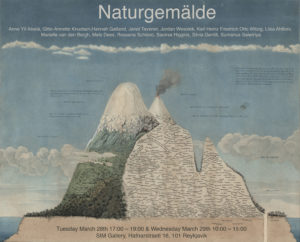 The artists were from Ireland, Thailand, Finland, Denmark, Australia, USA, Germany, Italy and the Netherlands and covered painting, sculpture, design, photography, video, sound and music.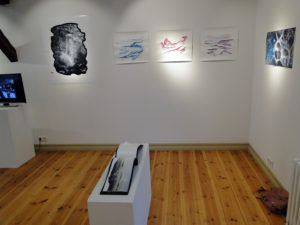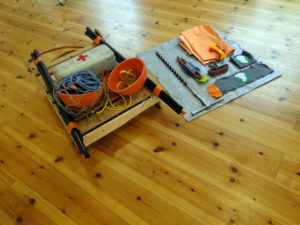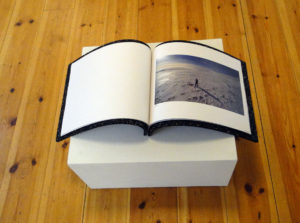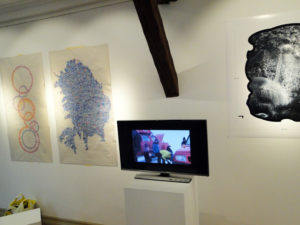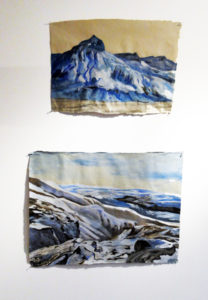 We also heard the promising American composer Ben Hjertmann, who was performing at Mengi in Reykjavik. (http://www.mengi.net/17-03). Eric de Luca did a remake of Sitting in a Room, which was originally performed in 1969 by the French composer Alvin Lucier.
At the end of tour month-long Residency period, we packed up and said goodbye to the friends from Korpulfsstadir, Gitte-Annette Knudsen, the textile designer from Denmark and the photographer Janet Tavener and her husband the graphic artist Rew Hanks, both from Australia. Gitte had gathered a lot of inspiration for new tapestries cycling around in rain and wind. Janet and Rew had spent the first of their three-month residency by doing tours, visiting ice caves and glaciers.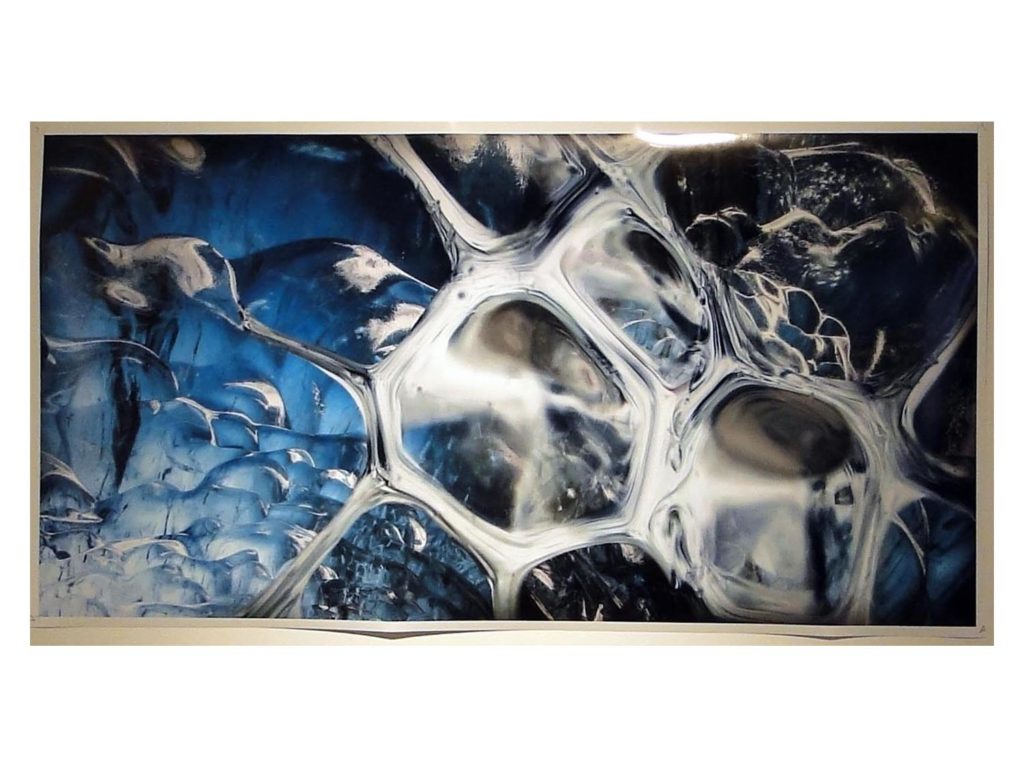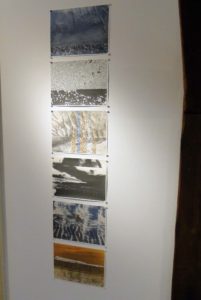 We travelled north to Akureyri, where we met with Arna Valsdóttir. She is a very active artist and a lot of her work can be seen on Vimeo. She also teaches at the Art School in Akureyri. We had already found a catalogue with her work in the Reykjavik museum. (arnavals.net/Visual artist\ vimeo.com/user4479133)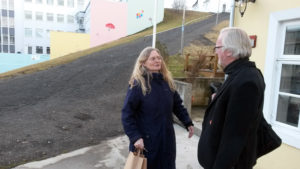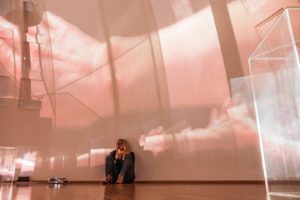 Finally we met with Gudrún Pálina Gudmundsdóttir and her Dutch husband Joris Rademaker. They are very much involved in the art scene in Akureyri and work in and with the Akureyri museum. Currently Palina is curating a show with the work of artists and local children that are inspired by their art works. (listings-grapevine.is/events/palina-\poptrem.blogspot.is/2013/11/) (www.astofam.akureyri.is/en/moya/news/joris-jahannes-Rademaker)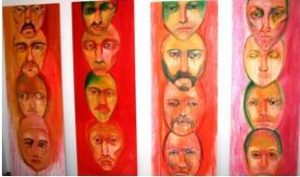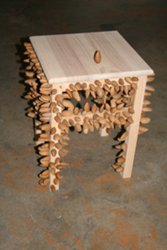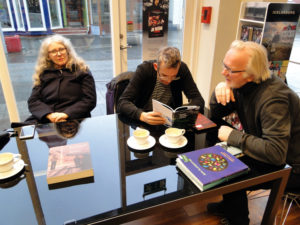 Iceland has been a very intense experience for both Mels and me and we regretted being there for such a short time and having visited only a few places. But, as it often goes, we promised ourselves to come back again, maybe in another season to see how different the landscape will look and maybe we can reach the inner parts of Iceland then and even see a volcano or two (as well as pick some mushrooms, Mels adds)….