Working down under – a residency in Bilpin
Mels Dees, 22-02-2019
Australia had already been discovered centuries ago by 'us', the Dutch – and some 50,000 years before that by the Aboriginals. But until last year it was the mysterious Southland to me, the place where people walk around with their feet backwards, where trees grow with their roots into the sky, where mammals lay eggs and saltwater crocodiles lunch on tanned bathing beauties.


Twelve years before, in 2006, we had done an amazing residency in Launceston, Tasmania. Nominally Tasmania is of course part of Australia, but the island is far more cosy, friendly and relaxed than the wild and rough mainland. We really felt at home there – it was like an slightly weird, exotic version of our native country – and actually, twelve years ago, we all but stayed there to settle down forever and ever. We're still not quite sure if it was the right decision to return to Holland…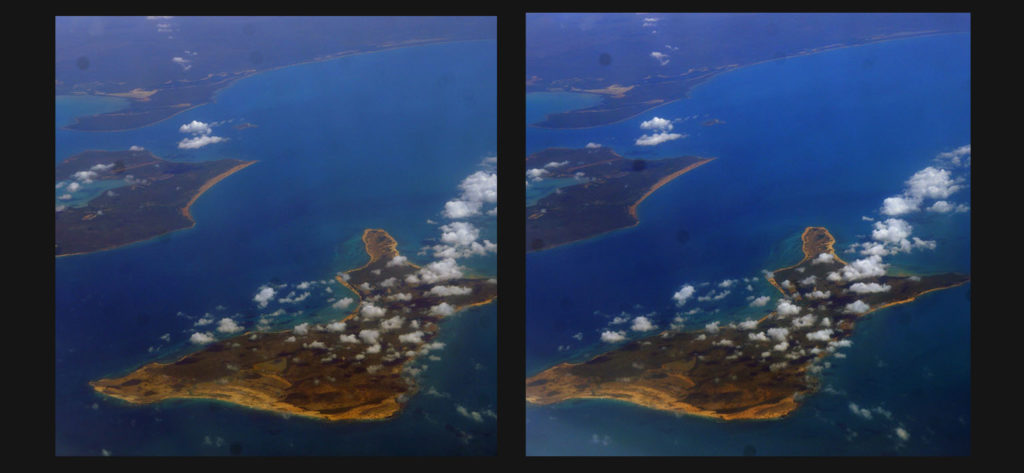 Mainland Australia is a different piece of cake. Not only does it take the greater part of a day to fly across it at 800 km per hour, but looking down from the airplane window it is clear why you would never want to (crash) land there. Most of the continent is about as inviting as the moon: red earth and scrub as far as the eye can see. No roads, just a few tracks. Hardly any signs of human activity – and most of the ones you see are pretty destructive. However, as soon as your flight approaches the coast the picture changes. Wide beaches, long, rolling waves. It still looks like a godforsaken, empty landscape, but your conditioned Western mind provides the lounge chairs, ice creams and long drinks.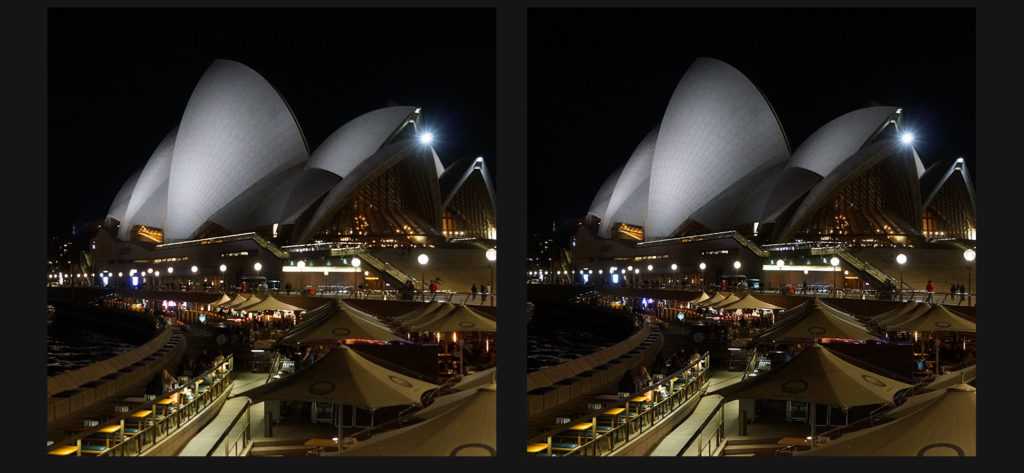 Once you're down in Sydney Airport, things are different, of course. Aussie culture can be more businesslike and down-to-earth than any other. Things are managed curtly, but friendly and quite efficiently – period. Which is OK if you want to get to your residency as soon as possible and get down to work, which we did. The major obstacle to drive our rented vehicle into the mountains was the fact there weren't any maps. It was too expensive to use our Europe-based phone app, and the locals didn't seem to need any – so gas stations did not sell them. Strange for a country where people still get seriously lost every year and sometimes even die on tracks in the outback…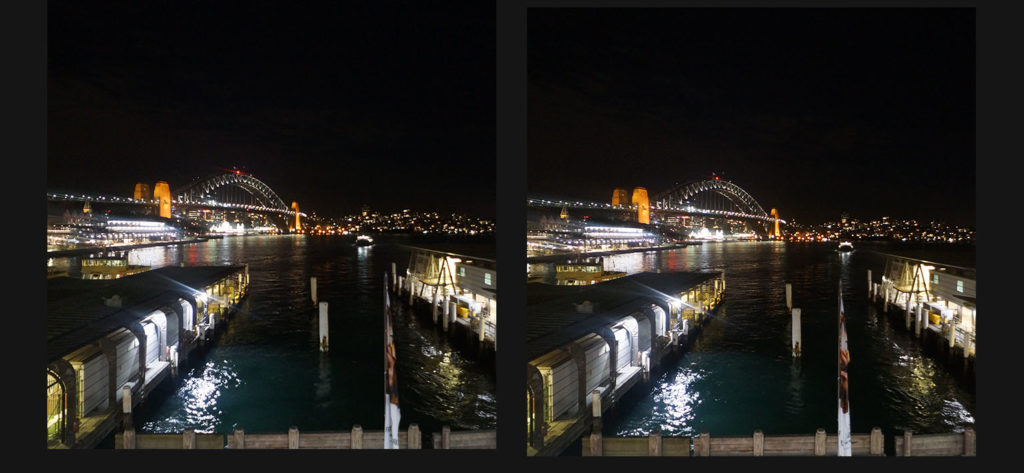 It was only after our residency that we had time to take a (much too short) look at Sydney. It's a charming and welcoming city, on a beautiful location. The people we met were open and friendly, Chinatown is full of good smells and great food, and the harbor in the evening has a true fairy-tale beauty. Small wonder that people from all over world – China and South-East Asian countries in particular – are flocking to the place.
Why stereo photographs?
Mels Dees, 22-02-2019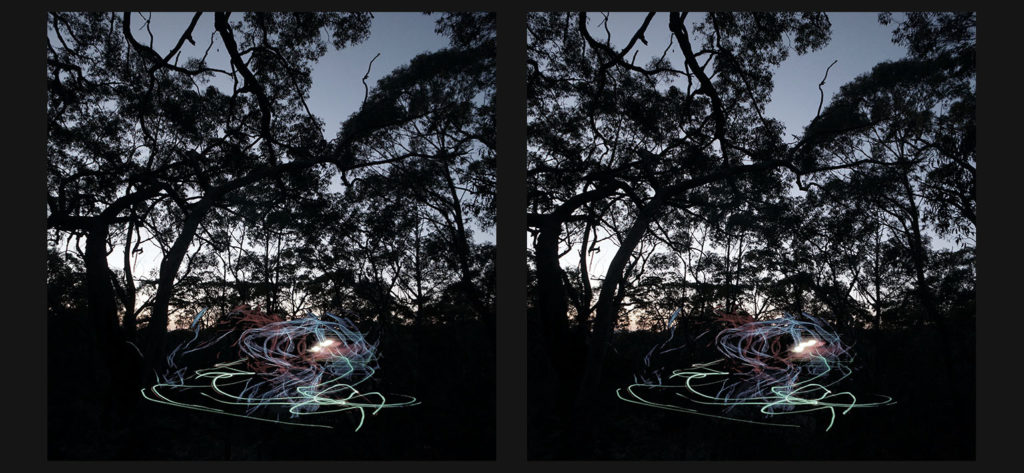 More or less accidentally, stereophotography came to be connected to Australia in my work. Since childhood, I had always been attracted to the silent, frozen world presented by my grandfather's stereoscope and his tiny (three or four) collection of pictures. They felt so much more mysterious and intimate than my father's 8 mm films or my family's colour photographs. So when we landed in Tasmania in 2006, and the huge Russian landscape camera I had brought in turned out to have been demolished by the customs authorities, it did not require a lot of mental exertion to land on the idea. With a bit of trial and error, I managed to construct an aluminum contraption which turned the simple digital camera we still had into a stereo camera of sorts. It did not work for moving subjects, but that did not bother me much.

Presenting stereo material is always a problem. You end up with people waiting in line to peep through a private viewer and pictures getting mixed and messed up, or with a dark room full of people with ugly glasses, staring cross-eyed at a screen. My solution for our show in Launceston in 2012 was to make batteries of viewers, each with a single picture. That way I was able to preserve the private, dreamy atmosphere of my grandfather's stereoscope. The viewers were made from recycled cardboard material and lenses from cheap toy binoculars. But the effect was quite impressive and I reconstructed the installation for exhibitions in De Meerse (Hoofddorp), Amsterdam and elsewhere.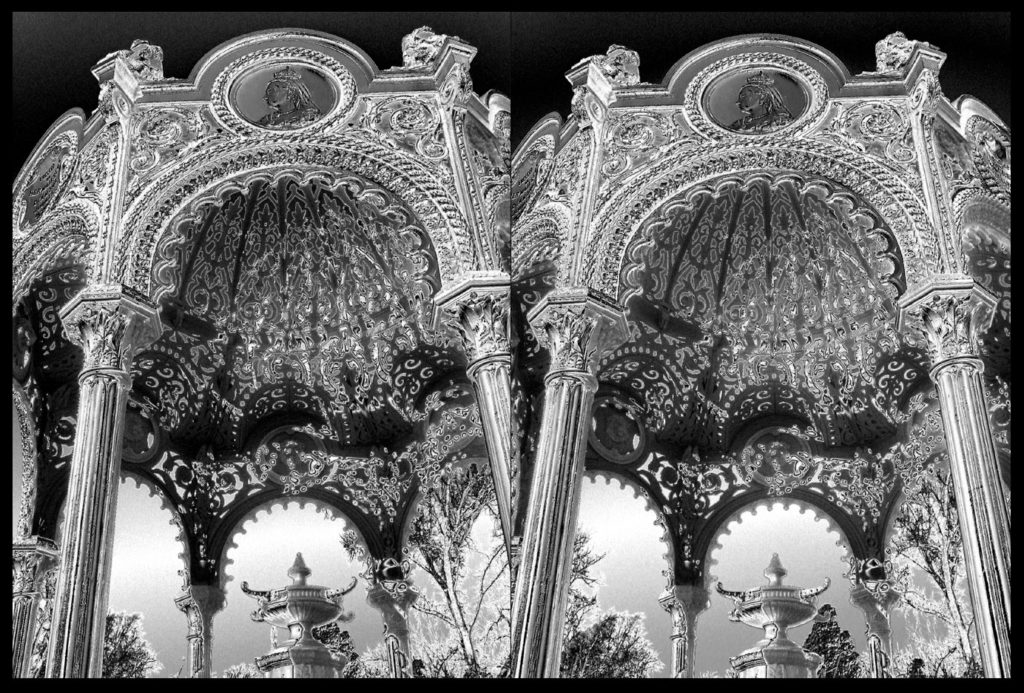 Using stereo pictures to recreate the spatial experience of the Tasmanian and Australian landscapes turned out to be a good idea. Not only as a semi-vintage knack, but also because it induces the spectator to think about the space he sees. It might make him realize that this spatial experience – maybe all spatial experience – is actually constructed inside his head. Although the image takes on a tangibility that a single flat picture can never possess, it also becomes more ethereal, abstract and dream-like.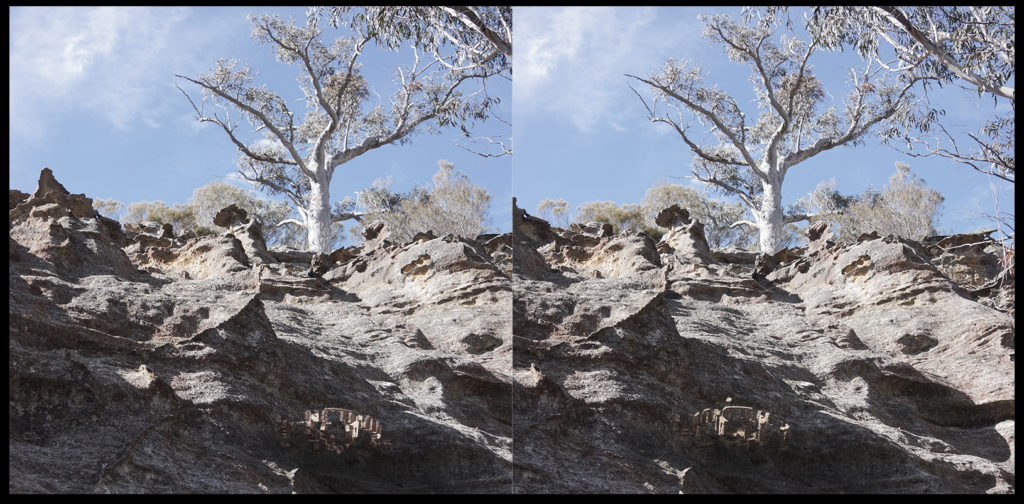 For the stereo pictures I created in Tasmania, I almost exclusively used black and white photographs, and restricted manipulation to negative and solarization filters. On the mainland, some 12 years later, I allowed myself the use of colour and computer-generated additions. This complicated the construction of the stereo images considerably. Colour creates depth in unpredictable ways and I realized that adding 3D-elements to a stereo picture is not easy at all. In many pictures I had to construct models in 3d (using Rhino), make a double stereo image and blend those with the background, keeping in mind the camera viewpoint, focus, lighting etc. And even then the results did not always convince (me).
But in Australia I made a discovery that made the presentation of stereo pics a bit less problematic. The standard size of old-fashioned stereoscopic cards is about 90 x 180 mm (the size is limited by the distance between human eyes). This turned out to correspond nicely with the frame of my Ipad mini – which until then I had used mainly to read Dutch papers abroad or foreign papers in Holland. It took only a few hours of tinkering to combine a 19th-century stereoscope (the closed Brewster type) and the case of my Ipad mini into an programmable electronic stereo viewer. Keynote presentation software is all you need to program endless series of stereoscopic pics.